O'Reilly Ratings Soar In The Midst Of Sexual Harassment Payoffs, Joe Concha, The Hill
Note: Also, see below, under Culture, in More Common Sense
The Jihadi Who Turned To Jesus, Patrick Kingsley, NY Times
Susan Rice May Have Directed 'Unmasking', Guy Benson, Townhall
Prince Jared Takes Charge, Ed Klein, Townhall
The Russian Emperor's New Clothes, Ann Coulter, Townhall
Is The FBI's James Comey An Idiot? And Is Our Government Led By Idiots? Ben Domenech, The Federalist
The Washington Post Lies – The Journalistic Integrity Of America's Former Top Newspapers Continues To Disintegrate, Sean Davis, The Federalist
Where in the World is Barack Obama? Ed Klein, Townhall
Editor's Choice
---
How America's Reasons For Entering WWI Resonate Today, John Daniel Davidson, The Federalist
Obama Administration Spying Appears Political And Criminal, Michael Goodwin, NY Post
Nikki Haley: Russia, Iran, And Syria Have No Interest In Peace, Bob Eschliman, Charisma; Also see, New Sheriff At the UN, Suzanne Fields, Townhall
Which Currency Could Replace The Dollar? Stratfor; Also see, Not Much Stands In The Dollar's Way, Stratfor
Common Sense Commentary: For a more complete analysis of where the dollar stands as the global reserve currency, see Evaluating The Arguments For The Dollar's Demise 
Why I Left The Freedom Caucus And Trump's Health Care Bill Should Have Passed, Congressman Ted Poe, Townhall
The Unmasking: A Summation, Guy Benson, Townhall
China And The US As Leaders Meet This Week: Understanding The Issues, George Friedman/Shapiro, This Week In Geopolitics; This article features this Chart: Dispelling the Myth of China's Leverage Over the US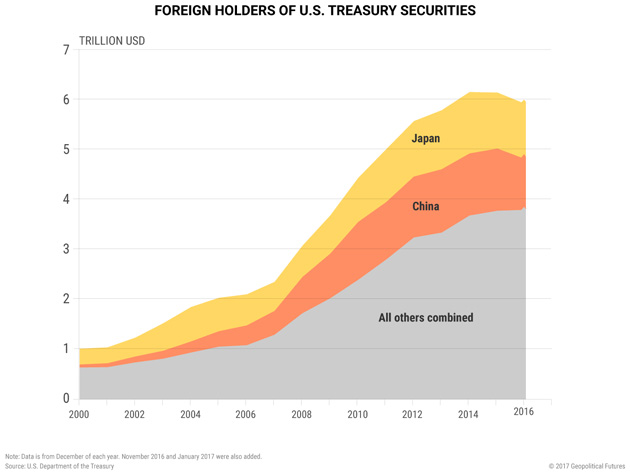 ---
Trump's 100 Day Contract To Make America Great Again
President Trump's Easter 2017 Message
Israel
Celebrating Golda Meir: First Woman Head Of State in Middle East, Facebook/Israel Project
Comic Videos
---
Olly The Hilarious Jack Russell Terrier, You Tube
Short Videos
---
A Doctor Changed Her View On Giving Abortions – Here's Why, You Tube
Videos/Podcasts
A Conversation With A Former Abortionist, You Tube/Live Action
Common Sense Interpretation
---
Briefs
Sorry Democrats – Obama Administration Spy Scandal Not Going Away, Mollie Hemingway, The Federlist
President Trump Goes To War, The Transom, Ben Domenech
Susan Rice: I Leaked Nothing To Nobody, The Transom, Ben Domenech
Examining The US Missile Strikes On Syria, Stratfor
Republicans Ram Gorsuch Through – A Sign Of The Senate's Progressive Disintegration, Guy Benson, Townhall
The Northwestern Rape Outbreak That Wasn't, Michelle Malkin, Townhall
Trump: Made In The USA, Mike Huckabee
#1 Commodity Of California Liberals? Arrogance, Mike Huckabee
Articles
Our Miserable 21st Century, Nicholas N. Eberstadt, Commentary
Finance Is A Bridge To Our Future Selves: Brazil As A Case Study, Mark A. Calabria, Cato Institute; Quote: "Poor countries, contrary to popular myth, do not suffer any lack of financial regulation. On the contrary, they tend to have extensive regulatory structures consisting of numerous restrictions, particularly on credit terms…While the economics might seem obvious, what might be surprising is the positive association between freer financial markets and both democracy and personal freedoms." CS Commentary: As R.E. McMaster postulated, "Economics = Government + Religion."
Understanding The Fight To Confirm The Next Supreme Court Justice, Bob Eschliman, Charisma
2017 Annual Forecast, Stratfor
The Trump Way: How His Strategy Neutralizes Russia, Iran, and the PLO – and Helps Israel, Caroline Glick, Breaking Israel News; Also see, The Moral Supremacy of Marco Rubio and Others relative to Putin, Pat Buchanan, Townhall
More Common Sense
---
Prophecy: See Common Sense Prophecy for multiple predictions – up to 11 years prior to events – that Trump would become U.S. President
Culture: What Are The Sexual Harassment Allegations Against Bill O'Reilly? Max Benwell, Independent; Also see, Media Hypocrisy Lives, Sean Davis, The Federalist
Common Sense Commentary: It should be noted that O'Reilly and Fox News have only responded with a statement, and that The NY Times, who first reported the allegations of incidents and payoffs of over $13 million by Fox and O'Reilly (not a hefty sum for Fox and O'Reilly's portion is even small relative to his net worth of over $80 million) over the last five years, has been the object of O'Reilly's venom repeatedly over the years. In other words, the Times, Post and other liberal media outlets have a lot to gain by going after O'Reilly. This is not to say the story is false or shouldn't be taken seriously, only that its not surprising that liberal media is out to get the #1 cable show host.
INRIX Global Traffic Scorecard 2016: Guess Who Is #1? INRIX
Common Sense Commentary: This study is primarily developed countries. The worst cities in the world for traffic change according to the originator of the study. CS hasn't been to all of the major cities of the world, but if you add developing nations/cities to the mix Manila has to be up there in the top ten worst cities in the world for traffic. For instance, see here ; Also see here 
Health/Fitness: The Myth Of Vitamin C: Just Eat An Orange And Be Done With It, Sara Chodosh, Popular Science; The Best Foods To Eat On A Ketogenic Diet, David Jockers
Money: A Quiet Giant Of Investing Weighs In On Trump, Andrew Ross Sorkin, allenwhite/NY Times
Sports: Falcon's Rematch With Patriots In Easier 2017 Schedule, sbnation
Music: Explaining Katy Perry, Leonardo Blair, Christian Post; You've Been Tuning Your Guitar Wrong – Let James Taylor Teach You, Facebook
Movies: When Every Day Is Groundhog Day: The Writer's Life And The Screenplay For One of The Best Comedies Ever, S.I. Rosenbaum, Vulture
TV: Homeland: This Season's Political Correctness is Boring – And Just Plain Wrong, M.G. Opera, The Federalist; 'Bloodline' On Netflix Exposes The Tortures of Family Secrets, Seaborn Hall, The Federalist, Note: Season 3 of Bloodline is set to return on Netflix sometime in 2017, though a release date has not been announced.
Books: The Cartel, Don Winslow
Common Sense Commentary: On everyone's bestseller or best read list for the last year, this highly researched and factual, but fictional and entertaining, tale illuminates the mess that is beyond the US Southern border and how the disintegration of our own culture ties us to it. Another can't put down, must-read.
Quotes of the Month:
"In matters of style, swim with the current; in matters of principle, stand like a rock." – Thomas Jefferson
"No thing great is created suddenly, any more than a bunch of grapes or a fig. If you tell me that you desire a fig, I answer you that there must be time. Let it first blossom, then bear fruit, then ripen." — Epictetus
"Circumstances rule men; men do not rule circumstances." — Herodotus